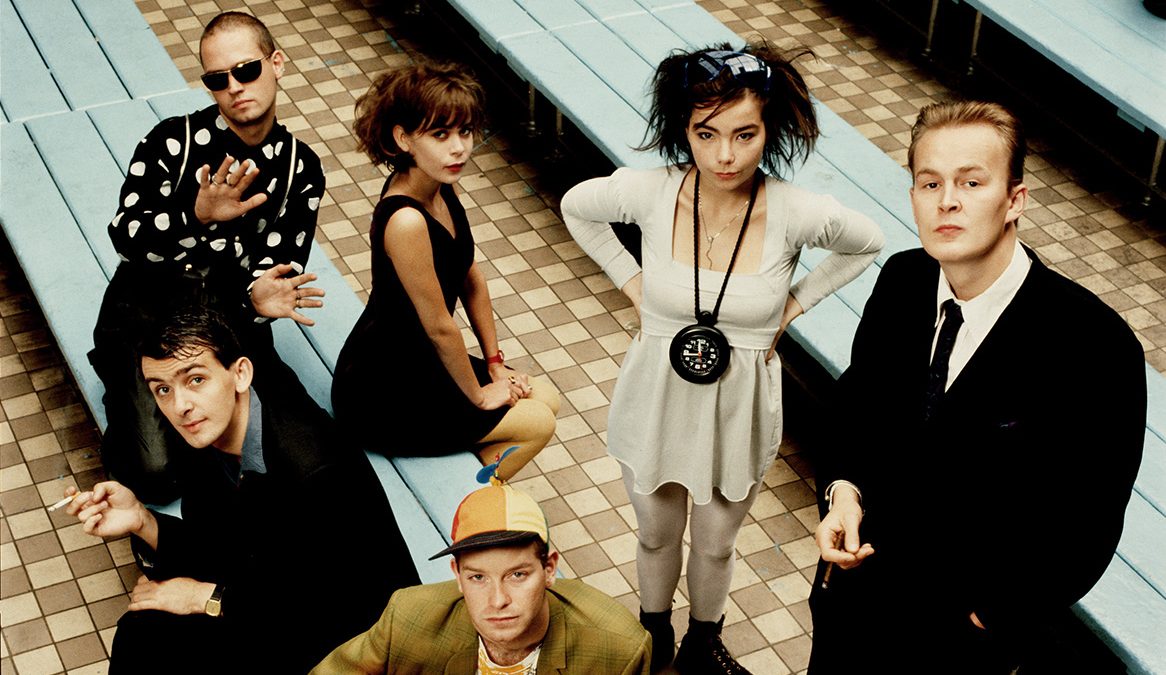 One lump, or two?
I suspect that everyone who craves a small club atmosphere for their favorite live band has a story about a transformative show. For me, that experience was seeing the Sugarcubes at the University of Massachusetts in 1990.
This wasn't my first concert, but it was the first time I felt like I was in the same room as the band.
Growing up in rural northeast Connecticut in the 80s, there weren't many options for seeing live music in intimate settings. Toad's Place was mythic, but it was also an hour away in a scary part of New Haven. Parents vetoed that quickly.
I'd seen Journey, David Bowie, U2, and Genesis at the Hartford Civic Center. The Cure and Depeche Mode both toured around this time and I caught them each at Great Woods in Massachusetts. Great shows, all.
A lot of great acts stopped at Lake Compounce, not terribly far from my parent's house. I saw Sting, Sinead O'Connor, Howard Jones, Tears for Fears, Elvis Costello, 10,000 Maniacs, Bruce Hornsby, and Squeeze once I had the freedom of my own car.
Until the Sugarcubes, my concert going experience was either at a hockey arena or big outdoor stage sitting roughly 3/4 of a mile away from the band, hearing some songs I'd grown to love on the radio through the distorted whump of poorly tuned PA speakers.
The Sugarcubes were a scrappy Icelandic indie rock band. They weren't played on the radio. If I wanted to hear them, I had to pull out my copy of Life's Too Good and play it. This is something I did frequently, so I knew all the songs.
Life's Too Good:  Spotify  Apple Music  Discogs  Amazon
From what I remember, Bjork and company had set up on a small stage in the student union. It wasn't very high and I could get as close I wanted to the band. It felt more like a wedding or a bar-mitzvah than a concert at first glance.
I don't remember the show being particularly well attended. I'd guess maybe 50-100 people? There was lots of room to roam.
We were high-school kids hanging out at a college for the first time. We felt like fake grown ups—out of place and doing our best to look like we fit in.
When the show started we were swept up immediately. Even though they started it all off with Sick For Toys—one of the weirdo Icelandic/English songs with the annoying guy singing—it was awesome. The sound was cleaner, closer. We were in the same space as the band and we felt every note.
We knew every song from the album by heart… even the bizarre ones we didn't like. We danced, we sang, we were part of the show. And while those big concerts were still a draw for me following this fateful night, these small affairs with budding talent—this is where the real experience was.
Recently, I came across a recording someone made at the University of Alabama from what seems like the same tour. From what I can tell it's exactly the same show I saw which I guess isn't terribly unusual for bands out in support of their first album.
I dare you to watch and not be hypnotized by a shockingly young Bjork as she growls and squeals her way through Birthday, one the best songs she's ever made.
(links below will bring you to the video on YouTube.com)
01 Sick for Toys 00:20 02 Birthday 03:30 03 Köttur (Cat) 07:56 04 Planet 11:15 05 Nail 14:21 06 Motorcrash 17:48 07 Deus 20:08 08 Traitor 24:05 09 Dream TV 27:10 10 Blue Eyed Pop 30:31 11 Coldsweat 33:12 12 Tidal Wave 36:36 13 Cowboy 39:53 14 Delicious Demon 43:38 15 (credits) 46:44
I'm one of those nerds that gets actual chills during a live show. It's pretty rare that I can get 'em from a recording. This one does it for me—even through the VHS quality video and bass free mix.
It's a sound I associate with pure joy.
---
I used to have a VHS copy of videos from Life's Too Good. I lost it in a move from a group house along with a bunch of other VHS tapes I never wanted to lose. Between the songs were these odd little interludes with Bjork where she explained things to the viewers.
This is the only one I've ever found this one… arguably the best of the bunch.
I mean, really. What's not to love.