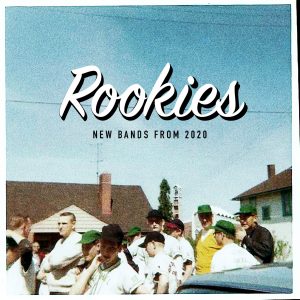 Rookies
In September I was shocked to see my local Lowes setting up for Christmas. I'm not sure why—this entire year has felt both like an eternity and like time hasn't passed.
Nothing related to days or hours makes any sense in 2020. It's still both April and time for 2021 to be over.
Summer never really happened. Sure, it got hot, but who went on vacation? How was your beach trip this year?
I went to a conference in February. If you'd asked me a few weeks ago when that conference was held, I would have sworn to you that it was in 2019.
So while it's probably normal for music sites to start their end of year lists, it feels both way too early for us to be closing out 2020 and somehow inevitable.
Last week Stereogum published it's annual list of best new artists. 40 of 'em to behold. After listening to most of them, I started to question whether I missed a few months or something—I sure did miss a lot of music.
So, here's a mix of some of my fav. new bands this year. Unlike SG who are pros and knew about some of these bands like 4 years ago, they're new to me. Maybe they're new to you too. Enjoy!
| # | Track | Artist | Start Time |
| --- | --- | --- | --- |
| 1 | dominique | ela minus | 00:00:00 |
| 2 | 7 Seconds | Porridge Radio | 03:42:55 |
| 3 | A Different Kind of Life | Nation of Language | 07:51:71 |
| 4 | The Queen Rules | Gum Country | 11:33:37 |
| 5 | Maker | Anjimile | 14:06:03 |
| 6 | I Just Want to Dance | SAULT | 16:58:48 |
| 7 | Keep On | Girlhood | 21:19:49 |
| 8 | Wrestling | Cartalk | 24:16:28 |
| 9 | What's It Take | snarls | 27:40:68 |
| 10 | Dunkirk | Silverbacks | 31:28:01 |
| 11 | Hammer | Bacchae | 34:31:45 |
| 12 | Fox | Dogleg | 37:30:11 |
| 13 | Speed Kills | Chubby and The Gang | 40:12:32 |
| 14 | Clean Kill | Coriky | 43:04:06 |
| 15 | Diamond | Empty Country | 47:04:25 |
| 16 | Knuckleduster | Muzz | 50:58:29 |
| 17 | I Guess This Is Life | jordana | 55:10:33 |